The Cross-Border Market 
What is Cross-Border trade? The simple definition is: selling your products online to international customers. According to the International Trade Organization, E-commerce is currently considered the most important channel and part of any business's digital strategy.  
In the last few years, online shopping has grown and become more popular, with technology playing a key role in making it easier to sell and buy through this channel. Some key events in technology that directly impacted online shopping were launching smartphones, creating new payment methods like Google Wallet and Apple Pay, and the shopping features on social media platforms like Facebook Marketplace and Instagram Shop.  
Fast-forward to 2020, when the COVID-19 pandemic hit the world and governments-imposed lockdowns, the only way for retailers to stay in business was to sell online and companies that already had an online presence became more popular. E-commerce sales have grown steadily, as seen from the graph below. From 2019 pre-pandemic to 2021 post-pandemic, online sales have increased by US$1.57 trillion, and it seems like this trend will continue for the next few years.  
When it comes to selling internationally through E-commerce, the size of the pie for businesses can potentially become bigger as more visitors can convert into clients. The borders for selling and buying have become almost non-existent; more customers look for products from other countries. Online users worldwide have grown from 3.4 billion users in 2016 to 4.5 billion users in 2022; this increases the chances for businesses, including SMEs, to capture clients from other countries.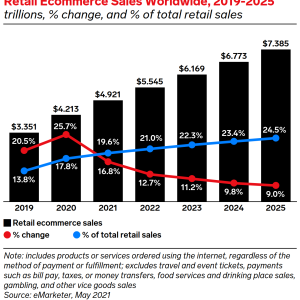 Considering what we stated before, we created a list of benefits and critical factors to think about when selling through cross-border E-commerce.  
Cross-border E-commerce Benefits
Stay competitive
The growth of E-commerce sales and internet users play a crucial role in the development of a business, so to stay competitive and current, companies must be ready and open to this channel.  
International expansion
Cross-border E-commerce selling across different countries has become easier as there is little to zero investment, making international expansion possible for SMEs. This sales channel offers the opportunity to sell and buy without the hassles of geographical boundaries, easing the reach of customers in other regions where there is demand.  
Increased business profit
As businesses get their products to a broader range of consumers, sales and demand are more likely to grow, resulting in higher revenue. Selling to other countries through E-commerce gives SMEs the chance to increase sales with no loss to bear and no limitations.  
Brand awareness 
Businesses can benefit from cross-border E-commerce in terms of brand awareness as it helps them reach the international market. It also opens the possibility for companies to customize their products to suit different market needs. By offering unique or customized products to the target market, the brand can gain higher brand awareness and recognition.  
Enhanced business sustainability
Since E-commerce platforms already have recognition worldwide, brands can better sustain themselves in the international market with more awareness and popularity when selling using Cross-border. It also allows companies to create a mark in the online world without higher costs and little investment. Online sales can be profitable for companies and worth sustaining.  
Cross-Border E-commerce Considerations 
Understand the local Market
It is essential that once businesses have an idea of the country or countries that demand their products, they do their research on the local market or markets. This is to be able to tailor the message and position that the product will have, for example, the local language, local currency, the local form of payments, and keeping an eye on cultural differences to avoid misunderstandings of your brand or product.   
Different payment methods
As mentioned in the previous point, it is essential to localize some aspects of your business. A strategy to do is to offer wider payment options. Nowadays, credit cards and PayPal are a must in many countries, but Apple Pay and direct bank transfers are commonly used in some countries or regions like Europe. Currently, businesses in Shopify can offer Apple Pay and even let customers pay with their Amazon accounts. It is particularly important as companies give consumers various ways to buy their products more conveniently.  
Logistics
The three crucial elements to consider in Cross-border E-commerce are delivery accuracy, time zones, and returns.  
Delivery accuracy and time zones
The key is to offer clear information and a reliable tracking system to build trust and get repurchases from buyers.  
Returns
Research and understand the return rate and legislation of the countries that the business is selling toEnsureve a transparent process and policies to handle returns and communicate them clearly to customers.  
Taxes and duties
When businesses decide to sell internationally, taxes and duties can get in their way if they do not research correctly and follow the necessary process. Companies need to have this information and check how it will be handled and communicated to customers. For example, it might be easier and more transparent for customers to see a price with tax included and to pay duties upfront along with shipping. This way, customers do not have to worry about further costs once their package arrives.  
Customer service 
When it comes to customer service, businesses need to pay careful attention to language and time zones. When businesses do not have enough resources to have staff that speak the local language of the country or countries they are selling to, we advise having a handy translator tool and patience to understand customers who might not speak English. If your demand is sufficient regarding time zones, it is best to consider hiring a customer organization system or a virtual assistant operating in the same time zone. These will help businesses avoid misunderstandings, be more efficient and keep customers happy.  
Conclusion
E-commerce has been growing in the last few years and is in continuous growth, which means that it is a channel that can potentially be highly profitable for businesses. Furthermore, as more people from all over the world use the internet for shopping, selling Cross-border can also allow companies to expand internationally with little investment and minimal risk.  
So why not look into what the world of cross-border E-commerce can do for your business? If you are interested in knowing how to get started and get your products to where your potential clients are, Contact US and take your business to the next level!