E-commerce is one of the sales channels that continues to grow immensely. However, additional fees such as shipping, taxes and duties have also increased. When selling online, these are inevitable and, in some cases, can hurt business profits. The good news is that there are ways to minimize the adverse effects these can have on e-commerce businesses.   
Learn more about the impact of high extra fees and how your store can reduce it, keeping customers happy. 
Effects of high shipping, tax and duties fees  
Let's start by stating the facts. Cart abandonment is inevitable, and some reasons are simply a natural effect on how users browse websites; for example, window shopping, price comparison, looking for gifts, etc. This trend is also seen in retail stores, so it is not inevitable, but also not unusual behavior. According to the Baymard Institute, There is a rate of 69.99% cart abandonment that does not consider the reasons mentioned, but other reasons that can be fixed to reduce the impact on cart abandonment.   
As we can see in the chart below, the reason with the highest percentage is "extra costs too high shipping, tax, fees," so we are focusing on this. If you want to learn more about other reasons and measures you can take to reduce cart abandonment, visit our blog.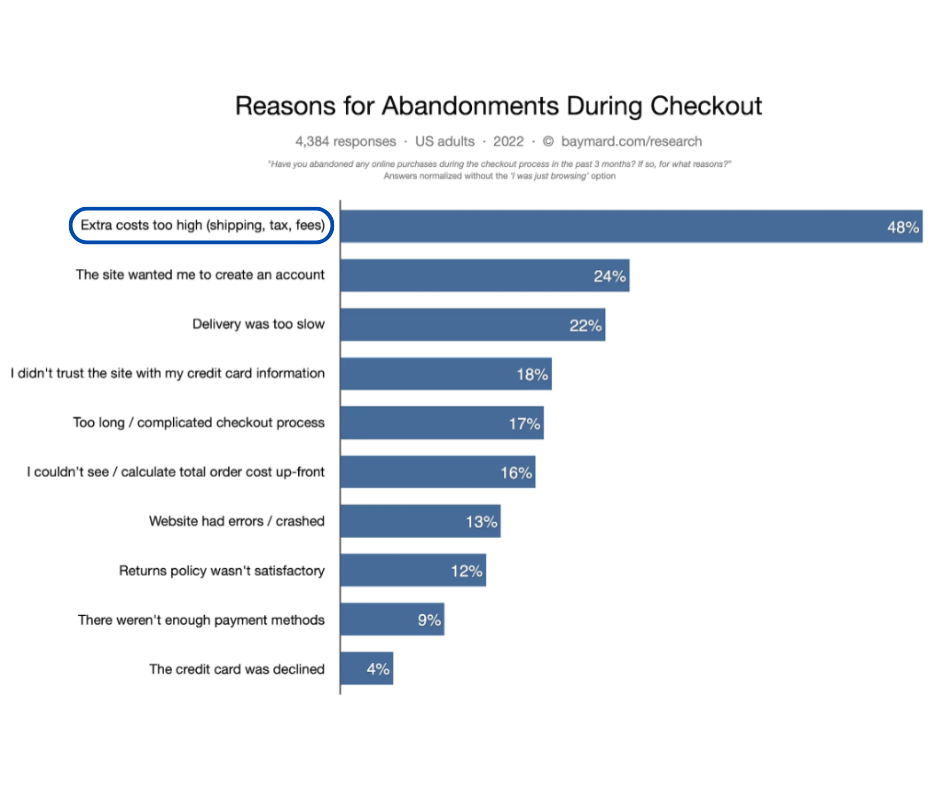 So why is this the reason that contributes most to cart abandonment? In the end, this also means losing potential sales and profits. Well, it is a fact that no one likes to pay extra surprise fees over the product price shown on the website. Now we as consumers know that shipping, taxes and duties fees exist. Still, if they are not communicated on the website, we can be discouraged, abandoning the shopping cart and looking elsewhere.    
What can you do as an e-commerce business to lower the impact of high extra fees on cart abandonment?  
Here are some tips to enhance the shopping and shipping experience and avoid unhappy customers and missing potential sales.  
1- Strategize and find the right shipping solution for your business and customers. 
Looking at the various options available and finding the right solution to offer you a competitive shipping price and reliable delivery service is the basis for how your business can reduce shipping costs to avoid cart abandonment. Do not be afraid to look at options even if you already work with a carrier. After all, it is about finding what works best for your business and customers.   
BorderGuru is part of Hermes, a global logistics champion based in Germany, which offers competitive cross-border shipping rates for online stores. We are a reliable service that shows a specific delivery time at the checkout, depending on the destination. We are not a broker; we are a one-stop-shop solution focused on online stores, consolidating thousands of online orders from different stores and shipping them to 200 countries worldwide. Reaching a specific volume to get a good deal is not a problem with BorderGuru.   
Find out more about the measures you can take to reduce shipping costs in our blog. 
2- Be transparent about shipping, taxes and duties fees (live rates) 
Free shipping is not always possible, but it is also not the only way to encourage consumers to buy from you. It is essential and much appreciated by consumers when e-commerce stores are transparent and clear about the shipping and import fees. Especially now, as online shopping is more common than ever, there are many options for consumers to buy from. BorderGuru Cross-Border can quickly help you calculate shipping, taxes and duties fees at checkout (live rates) and guarantee them, clearing orders customs. This will let your customers know exactly what they are paying for and build trust, avoiding cart abandonment.  
3- If possible, add the shipping cost to the final product price 
This is part of developing the best strategy for your business and customers. Adding the shipping costs to your final product price and communicating this to your customers as "free shipping" could encourage them to buy from you rather than from your competitors. But remember that there are taxes and duties to pay for cross-border shipping, depending on product, volume and destination. Be clear when communicating this in your shipping policy. The best way not to discourage your customers is to use a guaranteed Delivered Duty Paid (DDP) service so they do not have to worry about surprise fees at delivery.   
Our cross-border solution can help you offer guaranteed DDP without additional costs for your business. Learn more about the benefits of DDP in our blog.    
4- Avoid confusion by having a clear shipping policy  
An excellent way to avoid misunderstandings and conflict with customers is to have a clear shipping policy that is easy to find and refer to. In this way, customer service can better deal with discontent, leave a good impression and create loyal customers. In the end, remember that their reviews are very important for brand perception and that shipping problems are common, so the goal is to avoid losing customers.   
Here are some questions your shipping policy should have and answers to. These will also facilitate your customer service team job.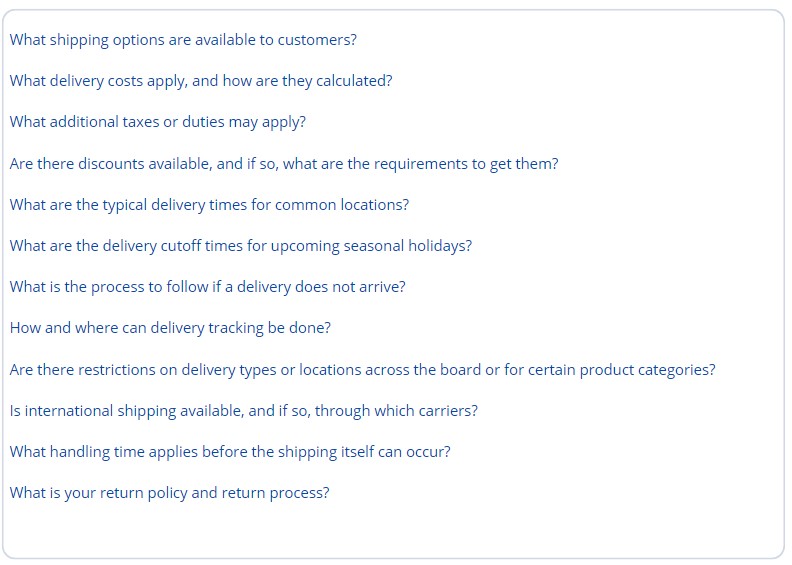 We can conclude that high extra fees significantly impact cart abandonment, resulting in companies losing potential conversions and profits. Make the necessary changes now to meet the needs of your business and customers, remain competitive and continue to grow.   
At Borderguru, we are more than ready to discuss our solution, which will help your business sell cross-border conveniently for you and your customers. Contact us now to make your international goals possible!