Country Report – GERMANY
Population & language 
Germany's population is 84.3 million. It is the most populated nation in the EU. The median age is 47.8, and the official language is German. The country is the biggest economy in the European Union, and the currency is the Euro.  
Economy  
The German economy is the fourth-largest in the world in terms of PPP and Europe's largest economy. Its GDP accounted for one quarter (24.2%) of the European Union's GDP in 2020. Its current GDP per capita is $50,900 and purchasing power parity (PPP) is $4. 23 trillion.   
Trading Partners 
Germany is the United States` largest European trading partner and the sixth-largest market for US exports. As for imports to Germany, the US was third place in 2021 after China and the Netherlands, accounting for goods worth €72.1 billion. Imports from the US rose by 13.6%. In December 2021, the surplus was €6.8 billion. 
Digital overview 
The most common domain used in Germany is .de. The total internet users are 78.81 million, accounting for 89.81% of the population.  
The most used device is a smartphone; 81% of Germans owned a smartphone. An interesting fact is that mobile no longer means on the go. 69% of all advertising is displayed via Wi-Fi, and only 23% via a cellular network. This report shows that Germans prefer to look at their phones in the commodity of their homes rather than using a tablet or computer to shop.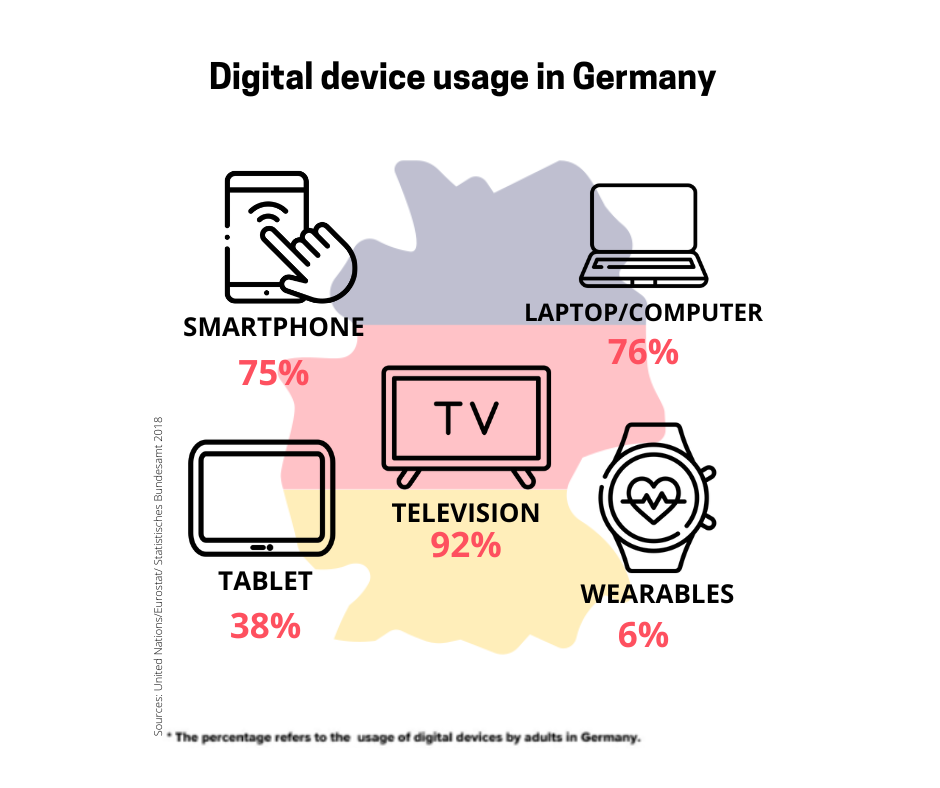 In terms of media usage time, people in Germany spend the most time on the internet than on any other medium.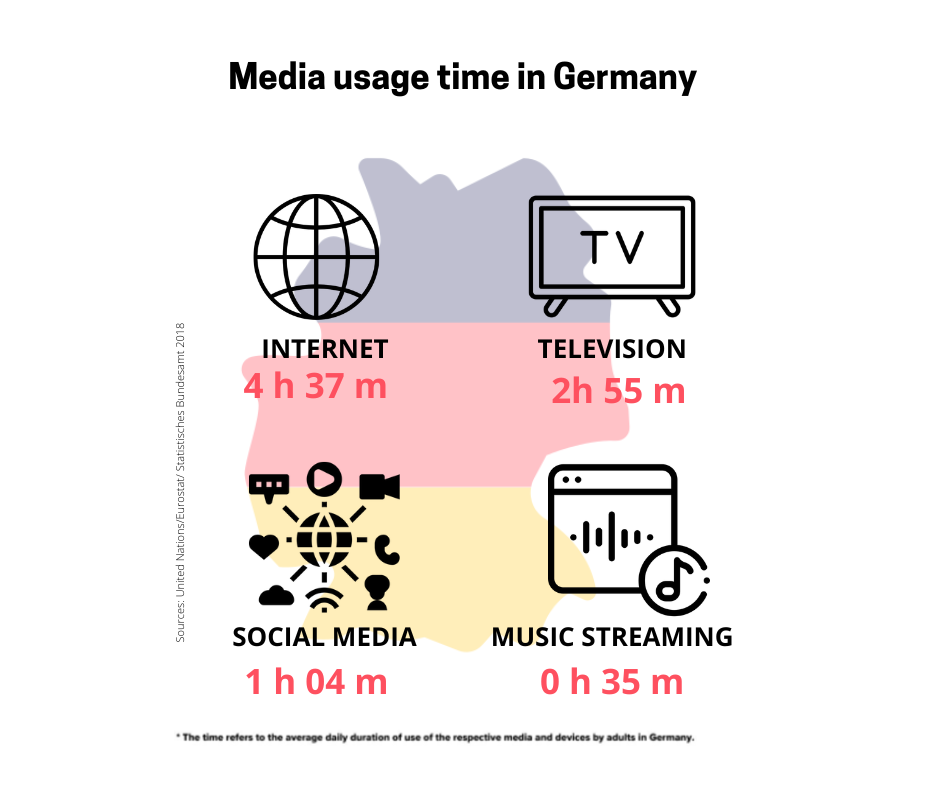 Common Payment methods  
The most common payment methods used for shopping online in Germany are PayPal, credit card, direct debit, e-wallet, and instant transfer. Having these payment options in your online store ensures a cart abandonment rate of 3%. It is important to consider these options because Germans trust them and are loyal to what works for them, which means that if you don't offer them, the chances of leaving uncompleted transactions will be higher.  
E-commerce Outlook 
E-commerce has been on the rise worldwide, and Germany is no different. In 2020, online sales grew 14.6% compared to 2019, about 83.3 billion euros. The most significant increase was in 2021, which grew 19% over last year, worth 99.1 billion euros. If we account for digital services, the total worth of e-commerce reached 107.1 billion euros. 
In Germany, e-commerce has become the "New Normal," It was strongly noticeable during the pandemic. Now, post-pandemic, it is still going and getting stronger as it shows that its benefits, a wider variety of products, and better service are what consumers need and want. Currently, the thinking of trading without e-commerce is unimaginable for both consumers and retailers.  
According to a study by RetailX, 85% of Germans shopped online in 2020. Consumers in this country are keener on shopping online rather than offline. The most popular product categories are apparel, consumer media, and electronics. 
As can be seen, there is a great opportunity for US online stores to sell to Germany as e-commerce continues to rise. Germany has an excellent trade partnership with the US, and there is a demand for US products.    
Fashion E-commerce industry 
Fashion is a profitable industry in e-commerce with steady growth. Global sales in 2021 amounted to 759 billion US dollars and are expected to grow by 78 billion US dollars in 2022. As shown in the graph below, this segment continues to rise. The most popular sub-categories are apparel, footwear, and accessories.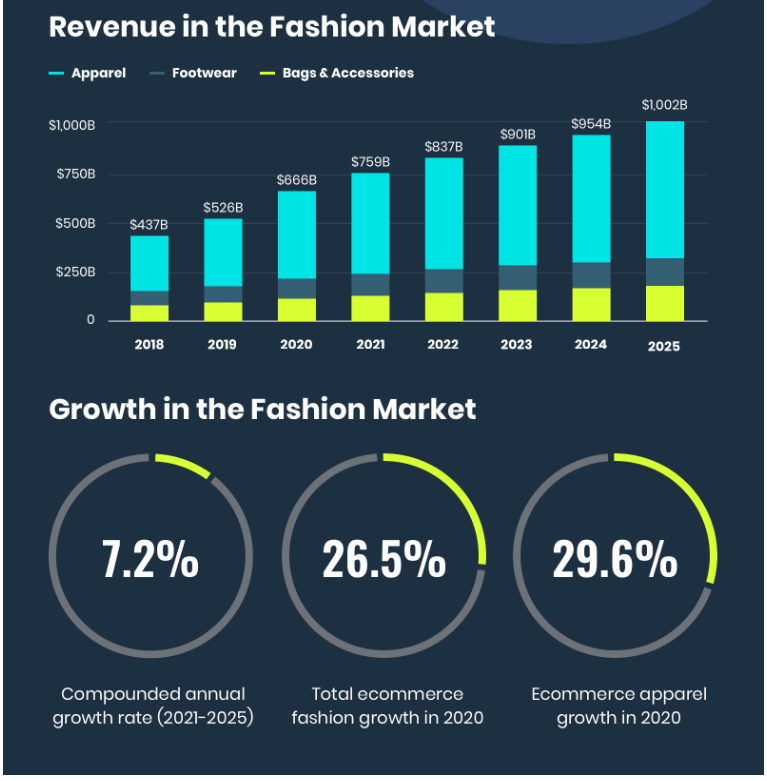 Source: Statista, commonthreadco.com
 The fashion segment is no different in Germany; it is one of the most popular segments in e-commerce. Revenue is expected to reach 38,467 million US dollars in 2022, with an annual growth rate of 11.66% from 2022 to 2025. User penetration will be 58.4% in 2022 and is expected to reach 67.9% by 2025. In 2021, the fashion segment accounted for 24% of the German e-commerce market, with a turnover of $26 billion. In 2021, the largest sub-categories were apparel, which accounts for 66% of sales. Then is footwear with 22%, and the remaining 12% is bags and accessories.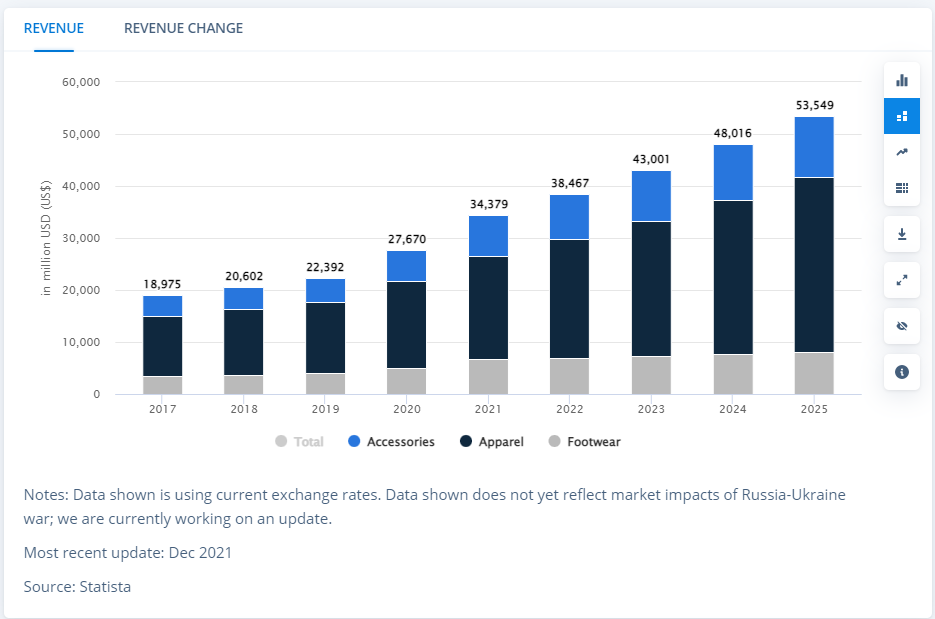 Concerning imported apparel, Germany was the number one import market in the EU in 2020, along with France, Spain, Italy, the Netherlands, and Poland, with a total import value of 30.2 billion euros, of which 14.3 billion euros came from other EU countries and 15.9 billion euros from non-EU countries.   
The information presented here suggests that US brands have room and an excellent opportunity to sell their products online and have a piece of the pie.   
The largest Online Fashion Marketplaces  
The top marketplaces that offer US brands the opportunity to succeed in the German market are Zalando, Otto, Amazon, Bonprix, and AboutYou. It is worth looking into these marketplaces to see which one or which ones are suitable for your product in terms of the target market, traffic volume, and competition.   
Otto, Zalando and About You are the most suitable for US fashion brands to expand to Germany. The three offer US brands a great opportunity to expand into this country successfully. Once companies have acquired brand awareness and sustainable sales, the chances of success in other marketplaces are higher.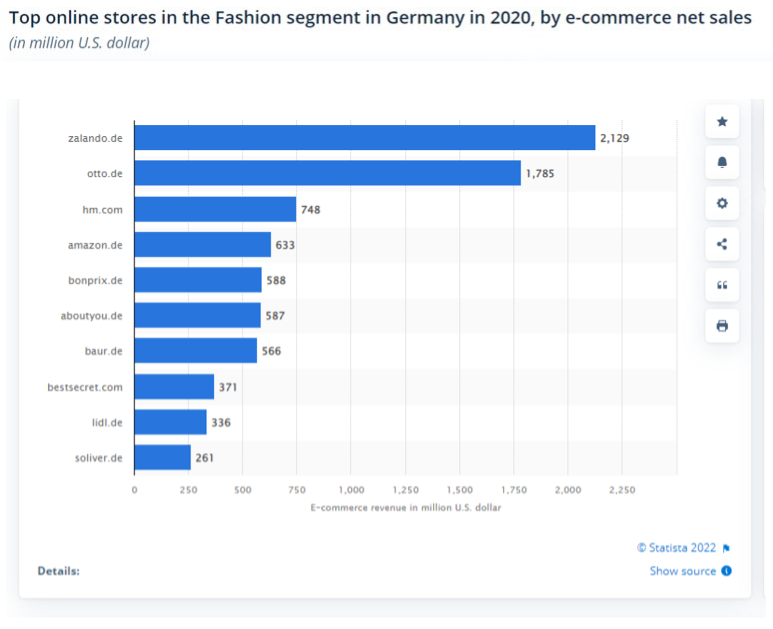 At BorderGuru, we are part of the Otto Group and offer our Marketplace Partners solution. This solution allows US fashion brands the opportunity to expand into Germany and 26 other countries in Europe by participating in marketplaces such as Otto, Zalando, About You, and many more. This solution offers content localization, tax and legal compliance, logistics and customer service, and much more to facilitate the international expansion process.    
Learn how your brand can benefit from our solution by Booking a Demo and start achieving your international goals.