In recent years, sustainable fashion has become an important topic for brands, the government, and society. The fashion industry dramatically impacts the environment, with its carbon footprint accounting for more than 10% of global greenhouse gas emissions. As climate change issues become more visible, current and new, brands in this sector are encouraged to be more transparent with their fabrics, production, disposal, and working conditions.    
Regarding global revenue, Eco-fashion is now a $6.35 billion industry while growing from $1 billion ten years ago. It is also expected to increase to $8.25 billion in 2023. As for the number of sustainable clothing items in 2018 grew by 508%, from 58,144 SKUs in 2016 to 353,817 SKUs in 2018. The world's leading markets, measured by sold SKUs, are the US, Germany, the UK, France, China, and Italy.   
This growth has to do with younger generations being more aware of fashion brands' environment and social impact. According to a survey conducted in the UK and Germany by Mckinsey & Company, during the COVID-19 pandemic, consumers began to change their consumption behavior. The main findings were that 57% of 2,000 respondents had made significant lifestyle changes to reduce their environmental impact, and 60% had recycled and purchased products in environmentally friendly packaging. Other vital measures included buying more durable items, keeping items that already have for longer, and repairing items to prolong use. 
As can be seen, there is already a demand for sustainable fashion products, and companies have a job to do in this regard. However, to continue to raise awareness of sustainable practices and take action on this issue, we must first understand what sustainable fashion is, its issues, and its importance.   
Several definitions cover the same elements. Here we present the following three:  
According to the Journal of Fashion Marketing and Management, Sustainable fashion consists of local sourcing and production, transparency across the supply chain, traceability of work processes and raw materials, environmentally friendly raw materials, safe working conditions, and fair wages.   
Sustainability in the context of fashion refers to the environmental impact of the production (production, processing, and production of raw materials), the wear and care of (use), and the disposal of clothing (end of use).  
According to several fashion experts, the most accepted definition: Sustainable fashion is an all-encompassing term that includes products, processes, activities, and actors (government, brands, consumers) aiming to achieve a carbon-neutral fashion industry based on equality, social justice, animal welfare, and ecological integrity.   
It is also important to recognize and be aware of the main issues that impact our planet. Bearing in mind that we all play a role, companies and consumers.  
Water consumption and contamination: high levels used in the production of clothing and when washing our clothes 

 

Energy emissions: high use of energy in the production of synthetic fabrics and the washing, drying, and ironing of our clothes

 

Chemical usage: contaminating when using fertilizers and pesticides in the production of raw materials like cotton

 

Waste creation: High levels of textiles incinerated or sent to landfill

 
Why is it important? 
Now that we have set the definition and know the impact of fashion on our planet, we need to understand the importance of sustainable fashion and why we need it.  
Besides environmental issues, as mentioned in the previous definitions, sustainability also has to do with ethical working conditions, such as child labor, fair wages, and safe working space.   
Here we present the top 5 reasons that tackle environmental and working conditions.  
Creates Less Waste:

By creating long-lasting products, it reduces the amount of waste. This can also be done by recycling and donating clothes.

 

Ensure Fair Wages & Proper Working Conditions:

By prioritizing fair wages and safe working conditions for all employees rather than prioritizing volume of production and spending.

 

Reduces CO2 & Other Greenhouse Gases Emission:

By using biodegradable materials from natural or recycled fabrics, reducing carbon footprint and the amount of energy used and other resources.

 

Saves Water

: By setting policies to have a budget on the use of water for production and prioritizing the use of textiles that require little to no water during the production phase, such as linen, hemp, and organic cotton.

 

Saves Animal Lives

: Using leather and fur alternatives to save animals from exploitation and preserve the ecosystem's balance.

 
Elements to consider as a sustainable fashion brand    
Quality functionality: Fabrics in sustainable clothing should ensure comfort, softness, and non-irritability. They must be durable, easy to clean and take care of.    
 Material: The most critical factor is that materials must be produced using non-chemical treatments. Materials can range from organic to sustainable cellulose.   
Design: Concerning design, it is essential to attract consumers to sustainable clothing. Designers and developers can control over 80% of the environmental impact of a product. Some examples of alternative design techniques that can facilitate recycling and have a lower negative impact on the environment are: 
Waterless dying techniques

 

Digital fabric printing

 

Use pure fibers

 

use natural dyes

 
 Labeling: In general, the label should cover the following topics: 
General care and warnings 

 

Washing 

 

Drying 

 

Ironing 

 

professional textile care or dry-cleaning

 
Sustainable fashion brands need to consider the instructions they describe on these topics, as they should encourage consumers to follow them to reduce the negative impact they could have on the planet.    
Packaging: Packaging is not only about considering the impact on the planet but also about being cost-effective to be sustainable for the earth and businesses. Using less packaging and/or biodegradable packing materials, as well as recycling old materials, are actions that should be taken to contribute to sustainability.    
Now, where are the most significant opportunities for US Sustainable fashion brands?  
According to research by us.npeal.com, after reviewing 64 countries to find out where the most green-savvy shoppers live. It has been revealed that the US is the top country for sustainable shopping. North America is second in terms of monthly searchers by continent.   
Number of sustainable fashion searches per continent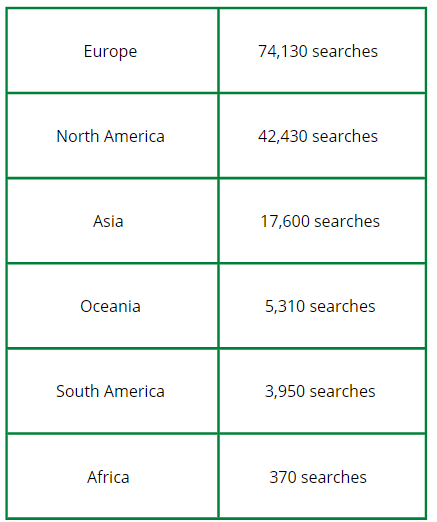 Apart from Europe being the number 1, ten of the top 20 countries worldwide are in Europe. The UK, Ireland, Germany, the Netherlands, Italy, and France are in the Top 5.    
Top Ten European Countries for Sustainable Shopping 
In Europe, environmental concerns and commitment to more sustainable lifestyles are more widespread among consumers, retailers, businesses, government, and non-governmental organizations. As a result, Europe is one of the most exciting markets in the world for sustainable apparel. In most EU countries, consumers, as mentioned above, are interested in sustainable fashion brands and expect companies to be responsible for social and environmental issues. The most trending topics around sustainable apparel include consumer education, fashion sharing, vegan clothing, transparency, standardization, and natural dyes.  
Germany is one of the markets with immense potential for sustainable US brands. This market is not only more conscious of sustainable products, but also 90% of the clothes Germans buy are from non-EU countries, and the US is a significant trade partner. In terms of sustainable fashion, spending on fair-trade textiles increased by 66% (129 million euros) in 2017 over 2016.   
Which measures has the EU taken to promote sustainable fashion?   
In recent years, the EU has imposed more policies on several industries to reduce its negative impact on the planet. Some measures the EU has taken include cutting back on the production and use of plastic products, increasing the production of electric cars, finding new ways to produce energy, and reducing the use of energy and water. Now is the time to develop new policies to promote sustainability within the fashion industry.  
Recently, the EU has unveiled a proposal to increase sustainability and reduce the consumption of fast-fashion products. This decision was made because clothing accounts for 81% of EU textile consumption, and fast-fashion products have built a culture of "take, make, break and throw away," contributing to unsustainable practices and taking its toll on the environment. 
Under the new rules proposed by the European Union, products must be longer-lasting and easier to repair. Products sold in the EU would be developed on a sustainability scale, demonstrating their environmental impact, durability, and ease of repair. This initiative aims to boost the market for sustainable textiles and prevent companies from misleading consumers with false environmental claims or greenwashing. 
Under this strategy, manufacturers must ensure their clothes are environmentally friendly and hard-wearing. To contribute to this initiative, consumers will also receive more helpful information on how to reuse, repair, and recycle their clothes.   
Government support for continued growing demand and increased growth give US sustainable fashion brands a higher chance of entering the EU and having a fair chance of success within this industry. This is a good time for US sustainable brands to become part of this growing sector, as it is new and still underdeveloped, so there is room for learning and improvements to penetrate the EU market. 
What best way to expand into Europe as a US sustainable fashion brand?   
There are 27 countries within the EU, and it can be complex to simultaneously serve many countries with diverse cultures and languages. Germany is, therefore, the best market for US sustainable fashion brands to enter the European market. As already mentioned, the market is already interested in environmentally friendly products and recycling and is one of the largest markets in the EU.   
Fashion is the number one category sold online in Germany. Therefore, the best way to enter the EU market and start selling is through the most popular German fashion marketplaces. Three of the best marketplaces in the fashion segment in Germany's top 10 are Otto, Zalando and Aboutyou.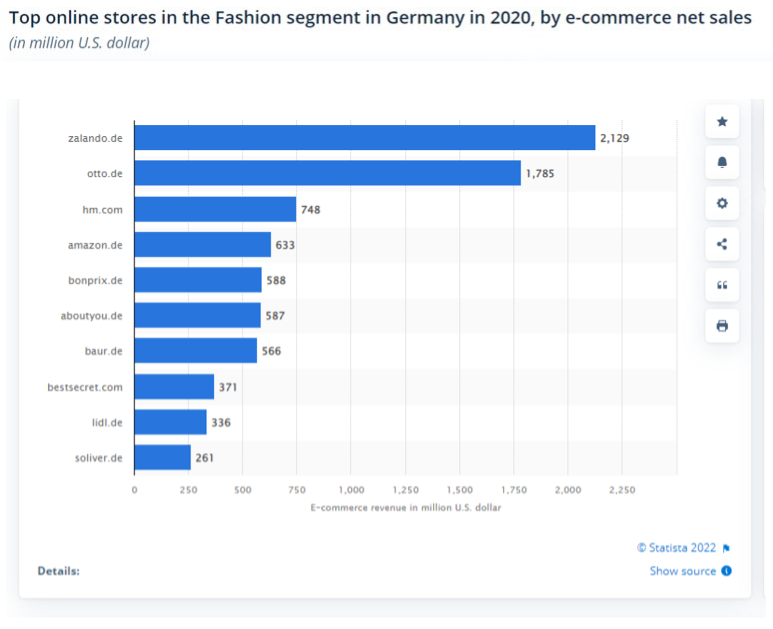 These fashion marketplaces are not only the best in this segment but also the best for sustainable fashion brands. They are interested and committed to contributing to sustainability and taking measures to be part of the solution in reducing the fashion industry's impact on the planet. 
The Otto Group is Germany's biggest fashion and lifestyle marketplace, with more than €11 billion in online sales and over 3,400 brands.   
Otto is committed to sustainability and has taken measures to reduce its impact on the planet. Some measures include searching for alternative packaging, such as 100% recyclable polybags, recycling bags, and recycled cardboard. There is also an initiative to encourage consumers to donate by offering free shipping from the consumer's address to Hermes Parcel Shop and a voting system where consumers can choose their preferred charity institution.   
They also have a code of ethics that brands should follow, which goes along with EU regulations to encourage brands and consumers to improve sustainability. For example, sustainable raw materials like cotton and wood from certified forestry are used.  
Founded in 2014, it is Europe's fastest-growing fashion e-tailer and part of the OTTO Group. It is considered a unicorn with more than US$1 billion. Since 2020, About You has expanded to 23 countries in the EU with over 2,000 brands, including exclusive collaboration collections with designers.
 AboutYou strongly supports sustainability, and some actions it has taken are: 
The use of eco-friendly boxes and poly mailers 80% recycling material and fewer prints.  

 

Increase transparency through new shop features, which label sustainable products and show all criteria and certificates

 

Increase the number of sustainable brands and products in their portfolio

 

Strengthen their sustainability criteria for used materials, processing methods and working conditions

Integration & launch of the product category "Second Love" for quality checked second-hand items in the About You Shop that can be purchased with their known customer benefits, such as free shipping and returns

 

Continuation of the ABOUT YOU Vintage Wardrobe – A space where festival and event visitors can rent second-hand clothing for free and learn more about used garments and the concept of circularity

 
Established in 2008, Zalando is the most prominent fashion e-commerce marketplace in Europe. It's available in 23 countries and sells over 4,500 different brands, with net sales of €8 billion. Zalando is a unique marketplace with a betting process, providing exclusivity and visibility to its brands. 
Zalando has been taking several measures to be part of the solution towards sustainability in terms of the planet, product and people; some of these are:  
Source 100% renewable electricity and reduced emissions from our operations

 

Eliminate by 2023 single-used plastic

 

Launched the sustainable flag in their Fashion Store to help customers find more sustainable items and tripled their more sustainable fashion assortment

 

Their private label Zign has been fully dedicated to sustainability since the summer of 2020.

 

They launched their first Circularity strategy in 2021.

 

Make it easier for customers to reuse and resell their clothes.

 
How can US sustainable fashion brands be part of these Marketplaces?  
Our Marketplace Partners solution allows US fashion businesses to be part of these exclusive marketplaces. We provide brands with tools to expand into these marketplaces efficiently, allowing them to succeed. Our solution provides businesses with localized services, such as tax and legal compliance, customer service, warehousing, logistics, and more. BorderGuru eliminates all complexities that come with international growth.    
Don't wait anymore. Contact us now and learn how your brand can succeed in the European Market!