We have seen how sales of e-commerce have increased in recent years, especially during and after the pandemic. Growth between 2019 and 2021 was significant. It went from $3.3 trillion to $4.9 trillion, and is expected to rise to $7.3 trillion in 2025. This shows that e-commerce is here to stay and is changing not only the way we do business, but also the purchasing behavior of consumers.   
If we look at the top online selling categories worldwide in 2022, furniture is third with a forecast sales of $492.6 billion, as seen in the graph below. This is important, as furniture and homeware have been an offline market for many years. Until recently, consumers have been open to the possibility of purchasing these products online. This is because companies in this segment use new technologies to improve the experience of consumers and try to adapt it to the experience of buying in person.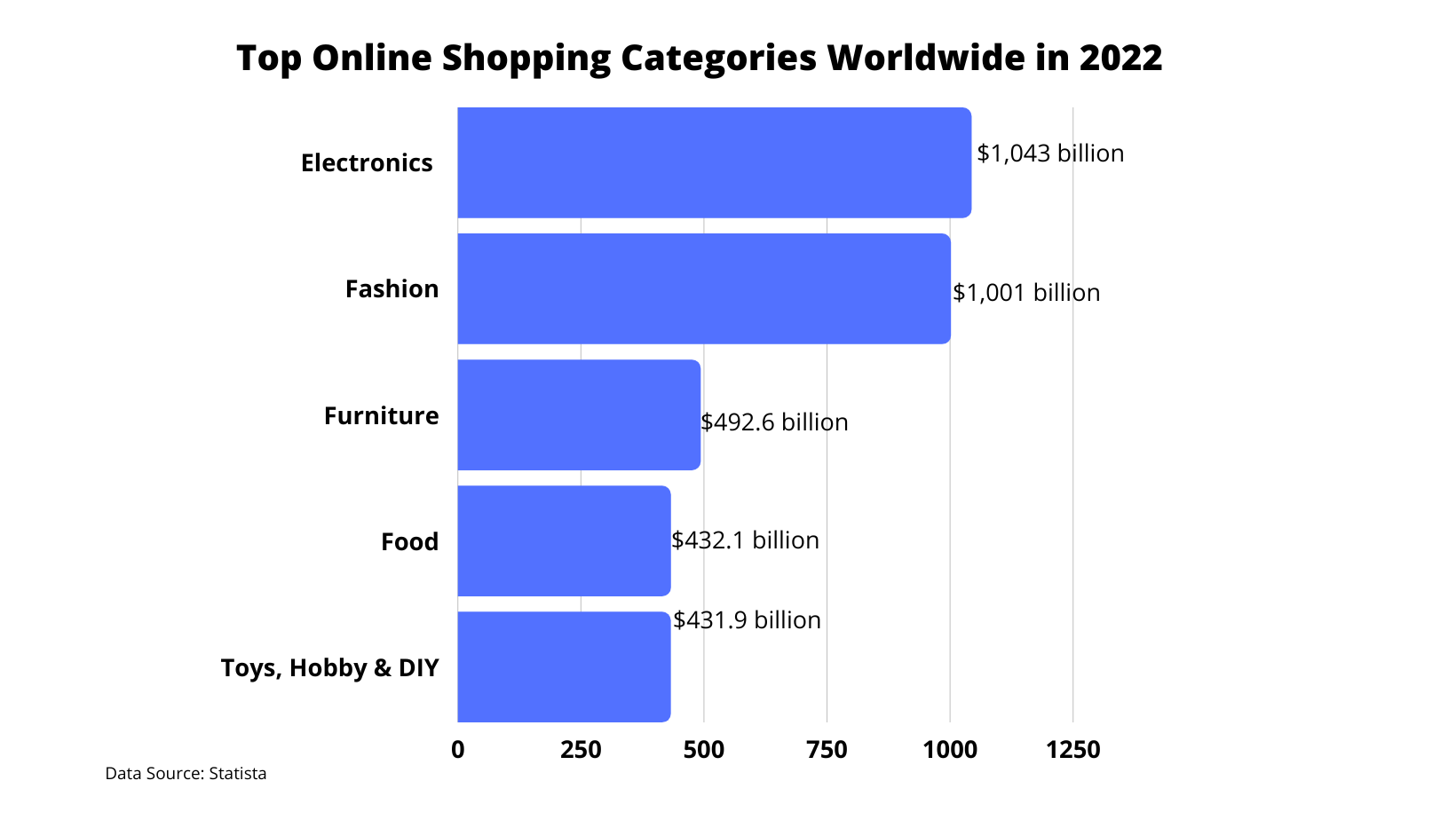 According to Technavio, by 2025, the homeware & furniture category will grow by $52.95 billion and progress at a CAGR of 9%. Since this market in the online world is still new and unexplored, there is an amazing opportunity for brands to monetize this channel.   
Where are the opportunities for US homeware & furniture brands to grow internationally?   
Let's begin by mentioning the key consumers of online homeware and furniture products, starting with the US and followed by the UK, China, Germany, Canada and Japan. Europe will, however, have a higher importance in the growth of this segment. From 2020 to 2025, this market will account for 42% of global sales growth.   
As shown in the graph below, Europe's online homeware and furniture segment has grown by an average of $3,634.6 million each year from 2020 to 2022. It is expected to grow at an average rate of $2,584.825 million annually from 2023 to 2025. It seems a little less than in the previous period, but that's because the boom was during the pandemic when people were confined to stay indoors. However, this also helped to develop the online sales of this segment.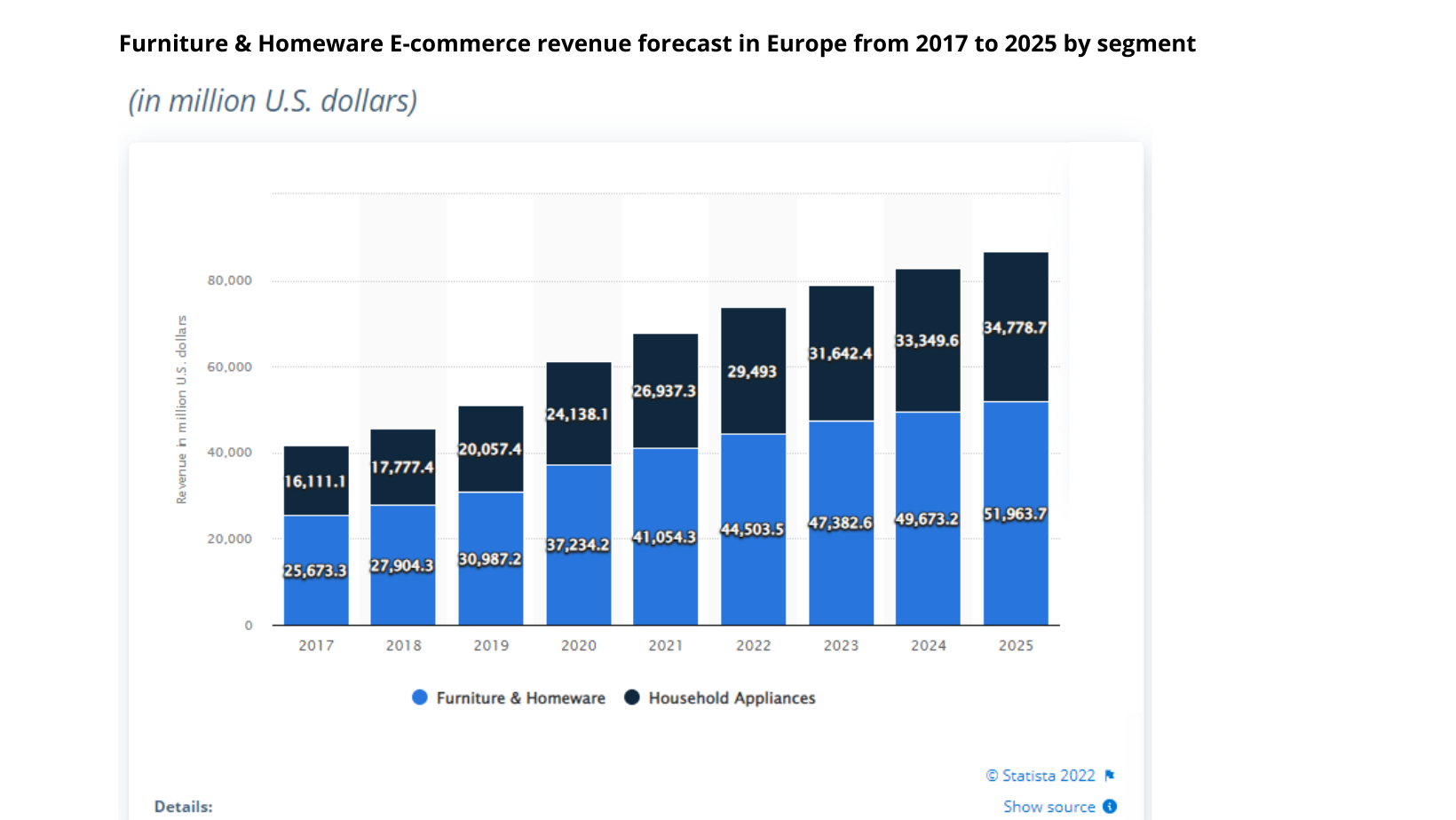 Within the European Union, Germany is one of the largest e-commerce markets. According to Statista, Germany was second in e-commerce revenue in 2021 with $105 billion, as France was above $120 billion. Of the total e-commerce sales in Germany, $15 billion came from homeware and furniture, which accounts for 14%. Like global e-commerce sales, the homeware and furniture segment is not the largest, so the market is not saturated. New brands have more opportunities to penetrate the German online market and be part of this growth.    
Main drivers for the increase in online home appliances and furniture in Germany 
In Germany, consumers used to buy from offline stores due to the touch-and-feel experience, but this has changed and homeware online sales have grown due to technological advances and the use of mobile phones. 
Online homeware and furniture retailers such as Otto and Ikea have implemented the following to be more attractive to consumers and reduce the reluctance to buy online.    
3D product visualizations  

 

Augmented reality apps   

 

Omnichannel shopping (combine stationary showrooms & online distribution channels)
These implementations have helped customers to have a better experience when shopping online for furniture and homeware. As a result, this segment has gained traction in Germany.   
How is it best for US homeware and furniture brands to expand into Germany?  
As previously mentioned, Germany's homeware and online furniture market has only been significantly growing recently and is not yet saturated. This has become the best channel for new brands to capitalize on in the German market.   
The ways for US online homeware and furniture brands to expand into Germany are to have their online store or join a local champion marketplace. The first option is pricey, logistically and operationally too complex, especially for SMEs that may need more extensive infrastructure to handle all international orders.
The second option, selling their products in a marketplace, is more viable, as it already has the infrastructure and resources needed to sell products in Germany. There is also awareness and respect of local customers; it is less complicated and less money is required to invest.    
Here we present the best online stores for homeware and furniture: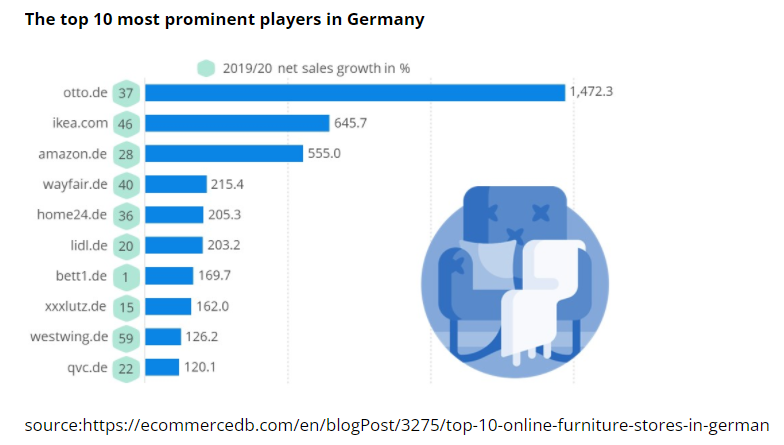 The top three are Otto, Amazon and Wayfair, focusing only on marketplaces. Otto is Germany's leading online marketplace in this category, with net sales of 1.5 billion euros, and is also among the top players in growth.   
Otto marketplace is part of the OTTO Group, founded in 1949. Now with over 3,400 sale partners in the fashion, lifestyle, homeware & furniture industry and more than 11 billion euros in sales, it's the biggest marketplace in Germany.   
Given Otto's presence and market penetration in Germany, it can allow US homeware and furniture brands to enter the German market, which is the largest within the EU, and be part of its success. Otto has a strong presence and the infrastructure and resources to support brands entering and growing in the German market. Otto is the best choice for logistics, marketing, and customer service.   
How can your brand be part of the Otto marketplace?  
We know that expanding into a new country can come with several complexities, even if it is selling in a marketplace. Here is where we can provide help to your businesses.  
The most suitable way for your brand to sell in this exclusive marketplace is to be part of our Marketplace Partners Solution. We provide brands with tools to expand efficiently into this marketplace, allowing them to succeed. Our solution provides businesses with localized services, such as tax and legal compliance, customer service, warehousing, logistics, and more. We eliminate all the complexities associated with international growth.     
Let us help your brand expand successfully into Europe. Contact us now and open the door to endless opportunities!